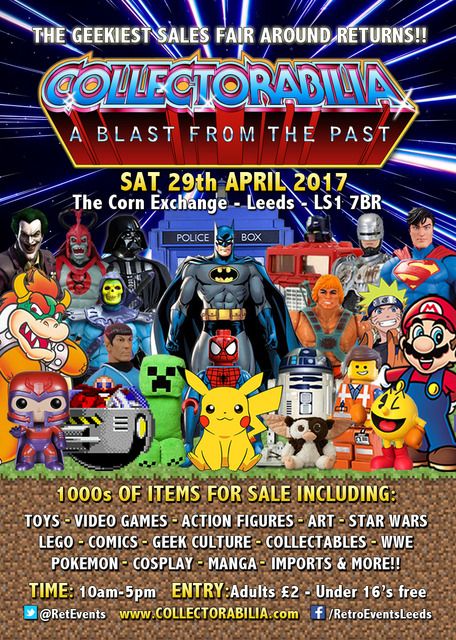 Over 30 sellers of the best of: Retro Video Games, Consoles, vintage toys, action figures, Star Wars, He Man, Comics, graphic novels, Lego, Geek Culture, Pixel Bead Art, Funko Pops, original artwork, t-shirts and much more......
The Yorkshire Cosplayers Heroes and Villains will be there all day so you can get your photos with your favourite characters
Perfect place to get those great additions to your collection, buy back your childhood, discover new things or start a new collection.
The Venue
Leeds Corn Exchange - Leeds - LS1 7BR
The Date
Saturday 29th April 2017 - 10am to 5pm
Admission
£2 per adult, Under 16s Free (when accompanied by an adult otherwise £1)
Check out the Website
http://collectorabilia.com/
Join our facebook group
https://www.facebook.com/RetroEventsLeeds
and check out our other events coming up too!
Tell us you are coming on the facebook event page:
https://www.facebook.com/events/655346981316698/
and keeping checking on there for updates on the event!
Follow us on Twitter:
https://twitter.com/RetEvents
Come along and join in the fun and get some great stuff for the collection too!!