Here's some of the gubbins I've picked up over the years, I apologise for the quality on some of these pictures, I am no David Bailey
Oooh what's in the box?
It's my second Star Wars collection, my first one was lent out years ago and never seen again, I can only hope they picked up a decent price at whichever car boot sale they ended up at.
Gaah, Ewoks!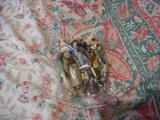 Here's my Last 17 figs.
Here'a a small part of the main thing I collect, Comics. When I first started collecting comics seriously back in the late 80's early 90's I was mainly into 60's DC stuff, going to the sales they have in Sheffield every now and again I used to pick up the odd single issue but noticed that for a few quid more you could get the 80 and 100 page giants, which is where the majority of this lot comes from, of course these days when I go they are few and far between and also quite expensive.
A full set of Warrior comics, I must get round to reading them someday.
Some recommended stuff if you're into comics.
Alan Moore's Watchmen, League Of Extraordinary Gentlemen and Grant Morrisons Flex Mentallo.
Some random old stuff.
More action figures, I'm not really a fan of Marvel comics but they do make great action figures.
And here's Mr Peanut to say goodbye.