Moderators: mknott, NickThorpe, lcarlson, Darran@Retro Gamer, MMohammed
---
After the success of the Retro Games Fair we are going SUPER SIZED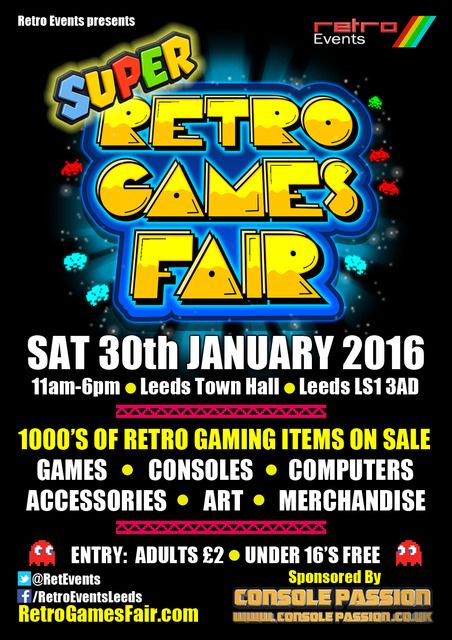 Over 100 tables of Retro Video Games, Consoles, Computers, Accessories, Art, Merchandise, Imports and much more covering all formats.
This is the biggest video game sales event in West Yorkshire with up to 100 tables selling 1000's of retro games, consoles, computers, artwork, imports, accessories, toys, modified consoles and much much more all for sale at the big brother of the Retro Games Fair!
No need to get up early for the car boot or wait for the postman from ebay! Here you can see the condition in person before you buy from the biggest and best sellers in the country. The perfect event to spend those Xmas pennies!
Whether you are a big collector or just getting into old gaming there will be plenty of common titles and rarities on offer on all formats from all ages.
Pay on the door and you can come and go as many times as you want in the day too.
Come along and get some great stuff with those pennies you got from XMAS!!
THE DATE
Saturday 30th January 2016
OPENING TIMES
11am-6pm
THE VENUE
Leeds Town Hall, The Headrow, Leeds LS1 3AD
ADMISSION
£2 per adult, Under 16s Free (when accompanied by a paying adult)
Find out more information on the links below:
RETRO EVENTS WEBSITE
SUPER RETRO GAMES FAIR WEBSITE
RETRO EVENTS FACEBOOK GROUP
Let us know you are coming on the official Facebook EVENT PAGE
Follow us on TWITTER
Check out the PHOTOS from the last event
---
ROM 2016: Retrovision Oxford Mayhem
Officially the longest running retro gaming event in the UK is back once again for more madness and mayhem!
Date:
21st & 22nd May 2016
Venue:
White House, Abingdon Road, Oxford
Admission:
£15 a ticket
Facebook Event Page!
BUY YOUR TICKET HERE!
The event will be supported by Revival, Video Game Carnival, Illegal Toothpaste, Retro Lords and Beercave Games.
---
Retro Video Game Night - Friday 11th March 2016
Retro Gaming Night is back again, this is our first one of 2016!
There is a loose theme of fighting games this time round, a raffle which has a top prize of a ZX Spectrum +2A, including games, and as usual our Games master will be running a tournament with prizes!
All our usual gaming displays will be on and we'll be getting loads of extra consoles and games out from our archive for you to play. Join us for a great night out and help support the work of the Centre!
7pm till Midnight
Spaces for this exciting gaming night are limited, so booking is required to ensure your place, although if you're lucky you *may* get in on the night. (tickets on the door will be £2 extra)
Due to the fact that this is BYOB and the adult nature of some games this is an over 18s event.
There will be a food van outside as usual, and we have a Pac-Lunch shop for soft drinks, Teas, Coffees and snacks.
Join us if you can
The Centre for Computing History
Rene Court
Coldhams Road
Cambridge
CB1 3EW
There are both a Travelodge and Premier Inn within a ten minute walk of the Centre.
---
We have loads of Retro Gaming events coming up in Leeds over the next few weeks and months be great to see you guys there - we are slowly turning Leeds into the Retro Gaming Capital of the UK
Click on an advert to go to the site for more information.
The RETRO GAMES NIGHT
We are back for the 5th Retro Games Night - approx 25 retro consoles to play on, competitions, beer, big screen, always a great laugh. Over 18s only.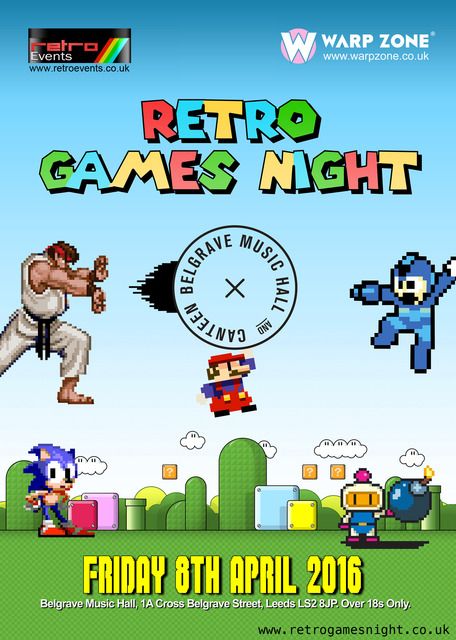 PRESS START
A video games day for all ages. Over 45 consoles, bartop arcades, indie gaming and minecraft to play on, alongside a trading area to buy all those games, consoles, imports, plushys and more.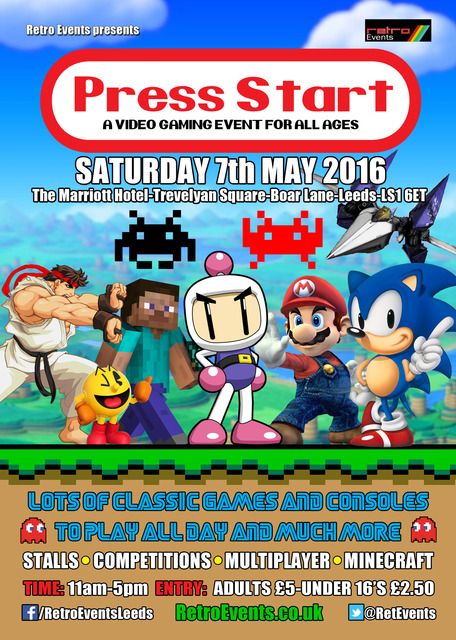 The SUPER RETRO GAMES FAIR
After the insanely busy last event in January we are back for more retro gaming goodies to buy, over 50 sellers spread well over 100 tables with the history of gaming for sale!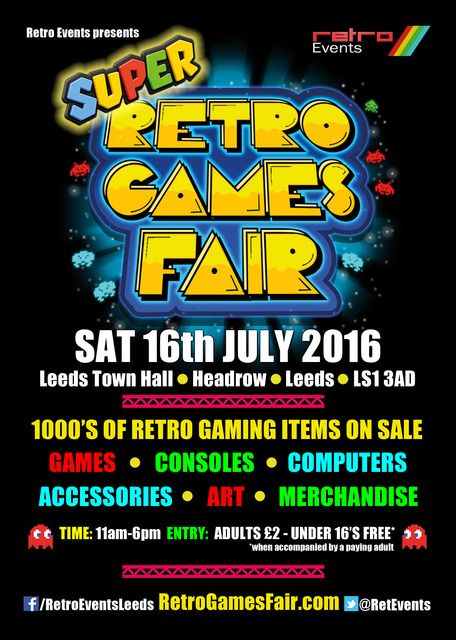 Click on the signature at the bottom to go to our site
---
---
Where:
The Centre for Computing History
Rene Court
Coldhams Road
Cambridge
CB1 3EW
Description :
Join the fine folks from Nintendo Life for an evening of Nintendo-related fun, frolics and general gaming goodness for all the family. Those who attend will have the chance to play all of Nintendo's classic consoles, including the NES, Game Boy, SNES, N64 and even the mighty Virtual Boy. There will be systems sourced from multiple regions, including the TV Game 6, Racing 112 and Block Breaker consoles from the Pre Famicom days as well as a host of other Nintendo machines from around the world along with special multiplayer areas for classics like Pac-Man Vs., GoldenEye and a host of Mario Kart entries.
In addition we'll be hosting a Mario Kart 8 tournament with some fantastic prizes, for those that want a more "modern" touch to their evening.
You'll also have the chance to meet indie developers such as Utopian World of Sandwiches (
http://www.utopianworldofsandwiches.com
) and try out the brilliant Chompy Chomp Chomp Party, a Wii U game that supports a staggering nine players at once.
StreetPass will naturally be a big part of this event, and we've got plenty of dedicated groups attending for this very reason - if you've got puzzle pieces left to collect then be sure to bring your 3DS along. Younger gamers will be able to come along early and enter a special contest, too.
Once you've had enough gaming you can look at some displays showing the entire history of Nintendo gaming. There'll also be a display on the struggles Nintendo has had with piracy, including some exotic carts and shady copying devices you may never have seen before. For those dedicated to enjoying retro games the right way, Retrospective22 (
http://www.retrospective22.com
) will also be on hand with some gorgeous modded consoles to gaze at and buy, while a number of Etsy sellers will be showing off their respective wares.
Finally, some the Nintendo Life team will be on hand for some games and a chat, including YouTube superstar Alex Olney. This will be a night to remember for Nintendo fans, book today so that you don't miss out on all the fun!
The event will run from 3pm-10pm. You must pre-book your ticket here. All attendees will be provided with a wristband letting them stay in the Centre past our public closing time of 5pm.
---
Not long now till the Super Retro Games Fair!! Check out the event layout for all the traders below. 16th July - Leeds Town Hall - 11am-6pm - 1000's of gaming goodies up for grabs.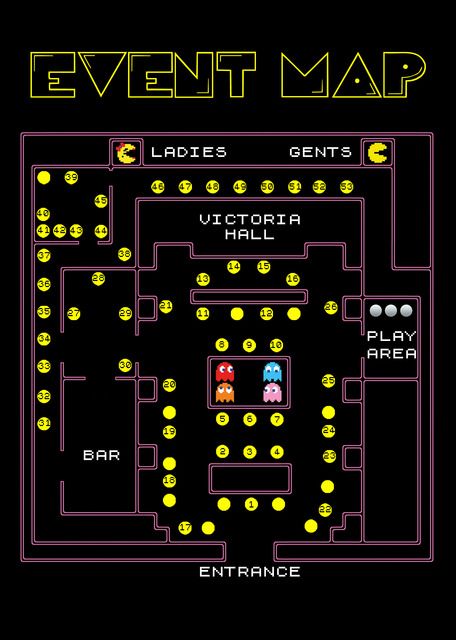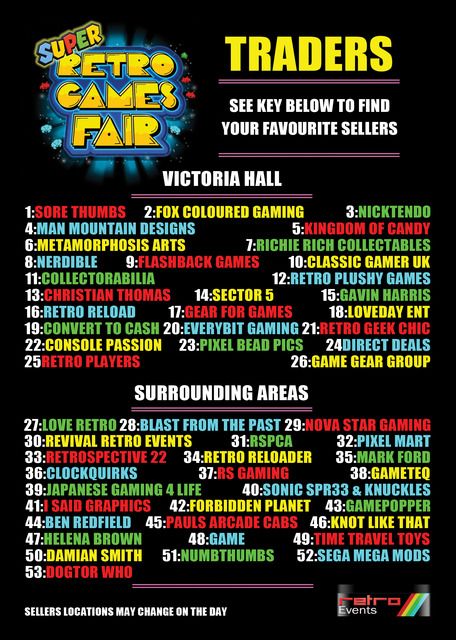 ---
---
Sureshot wrote:Looks like Arcadian went AWOL... anyone have a decent rundown of what's coming up?
hes not much of a forum goer these days
New thread?
Shall I start it a new?
---
The Retro Games Night is back! This time with more games, consoles, bartops, competitions and more!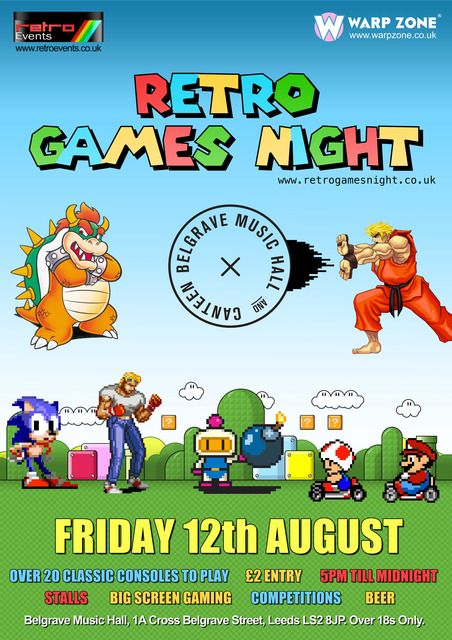 Come and join us in the gig room at the Belgrave Music Hall in Leeds for more Retro Gaming Fun. We have approx 25 of the best retro games to play, bartop arcades including the Dreamcast Cabinet, there will be four tournaments to enter (Street Fighter 2, Street Fighter V, Super Smash Bros and Pokken Tournament)
Also we will have a couple of sellers or games, and merchandise. The big screen will be up for some Street Fighter action and the beer will be flowing all night. So head on down straight after work, have a beer and a game!
The Venue
The Belgrave Music Hall and Canteen - Gig Room.
1 A Cross Belgrave Street
Leeds
LS2 8JP
The Date
Friday 12th August 2016 - 5pm - Midnight
Admission
£2
Check out the Website
http://retrogamesnight.co.uk
Join our facebook group
https://www.facebook.com/RetroEventsLeeds
and check out our other events coming up too!
Tell us you are coming on the
facebook event page
:
https://www.facebook.com/events/636637899817162
Follow us on
Twitter
:
https://twitter.com/RetEvents
Come along and join in the fun and get some great stuff for the collection too!!
---
---
Who is online
Users browsing this forum: No registered users and 2 guests