Hi folks,
I just wondered whether there was any appetite to discuss the latest additions to the wiki (on Wikia) that I run.
I became an avid magazine collector thanks to Mort's Zzap 64 scans. I now have a collection of nearly 6,000 owned and 3,000+ scanned. Even though it's very niche, I decided the world needed a kind of database of them all
. Obviously there are a fair few fan sites for specific magazines, but I thought it would be cool to have data from the magazines in one place.
I randomly pick a magazine to work on and I thought it might be nice to discuss them as I add them as it can be a bit lonely.
The most recent magazine I've added is ST Format Issue 3 (October 1989)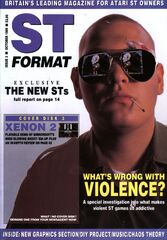 Link to
Wikipage
It had 10 ST reviews with Strider top scoring with 92% and Xenon 2 scoring 90%.
The lowest scorer was Castle Warrior with 43%
I'm happy to scan in the odd page here and there if anyone wanted to read a specific article/review (nothing too new please, don't want to get in trouble...).