Due to the recent feedback I have had, I have now decided to do Speccy Conversions as a one and only thread to avoid cluttering up the forum.
Here we go:
1. Rygar:
Arcade Version:
Speccy Version: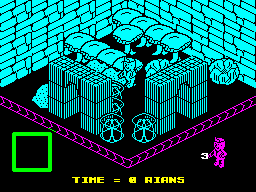 Comment: Excellent Loading Screen which is very attractive looking. The game itself has smooth scrolling, graphics are clear, not much colour and pretty poor sound. An enjoyable game to play.
Overall: 7 out of 10.
Your comments please before I post the next game on this thread.
Thanks.