Retro Gaming Spotlight - Space Invaders
Posted: Mon Jun 10, 2019 12:01 pm
Another legendary arcade game hit the scene Space Invaders, which was launched 41 years ago in June of 1978! This perennial arcade favorite has remained popular in retro gaming circles ever since.
We're taking a look back at this wildly influential video game designed by Tomohiro Nishikado who took inspiration from earlier games like Breakout and Gun Fight.
Gameplay:
Space Invaders is an early fixed shooter game. You control a spaceship with a single blaster for taking down waves of enemies. The enemies begin their assault in a tight formation and scroll from left to right. Each time they reach a side of the screen they begin to move faster and faster. Weapons fired by enemies and players alike can break down your defensive shields, so caution is key to maximizing defensive strength. Check out a video of gameplay here on YouTube:
https://www.youtube.com/watch?v=MU4psw3ccUI
Tips:
StrategyWiki has a lot of additional info on the game, as well as steps for the Furrer Trick, which can guarantee the player a maximum score for each mystery saucer kill. Find their guide here:
https://strategywiki.org/wiki/Space_Inv ... alkthrough
Play:
For anyone who missed out on Space Invaders in the arcade, it's still available to play in your browser as a Flash game. There are quite a few options out there, but a good recreation can be played here:
http://www.free80sarcade.com/spaceinvaders.php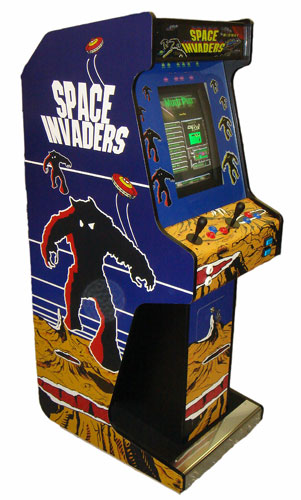 Above image courtesy of Direct Games Room: http://www.directgamesroom.com/voyager- ... abinet.asp
Space Invaders was several years old before I ever set foot in an arcade, but it was still a ubiquitous machine to have. I dumped a lot of time and money into this game as a kid.While gaming has certainly evolved over time, it's good to get back to basics from time to time.
Did you get to play the arcade version of this classic?
We'd love to hear from you!