Sensible Days 2019 - Fulda, Germany
July 27/28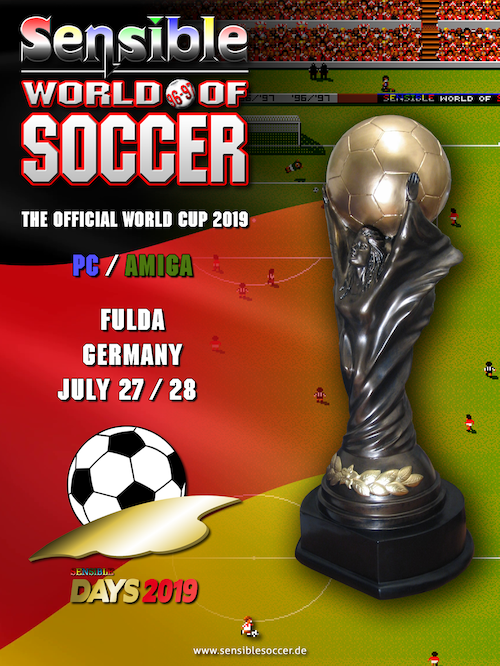 INTRODUCTION
It's time to officially announce the biggest, most sensible event of 2019, Sensible Days!
This year the 16th annual official Sensible Soccer World Championships will take place in
Fulda, Germany
.
Be prepared for a great tournament, lots of old and new SWOS friends and lots of fun in the heart of Europe!

ALL TOUNAMENTS WILL BE PLAYED ON ORIGINAL HARDWARE!!

Website info: http://sensiblesoccer.de/tournaments/sensibledays-19/
Event on facebook:
https://www.facebook.com/events/611187792668392/
There will be two main tournaments (PC DOS SWOS and Amiga SWOS) and one side tournament (Classic Sensible Soccer on Amiga).
Everyone is welcome to join!
--- BOOKING OPTIONS ---

a) All weekend: from Friday 26th to Monday 29th JULY
BOOKING PRICE: 125€
– 3 overnights from 26-29 July!
– A bed in one of the nice rooms
– A total of 8 meals, free soft drinks during meals
– (First meal = Friday evening / Last meal = Monday morning)
– Both tournament fees included.
ATTENTION: You might be refunded to some extend, if you only stay for 2 nights or 1 night. Nevertheless you have to pay 125€ first (as a deposit).
FOR NOW WE COULD ORDER 40 BEDS!
THERE IS NO GUARANTEE WE CAN OFFER MORE PLACES!!
b) SINGLE TOURNAMENT PARTICIPATION – Sat-27-July and/or Sun-28-July
BOOKING PRICE: 35€ /day
– no overnight
– lunch & dinner incl.