So, with all this recent talk of Superfrog going on, I figured it'd be a good time to discuss the sort of thing that popularized the 90's: Cute animal mascots. Every console and computer had them, unless you were... I dunno, the Acorn Archimedes. They all ranged in actual game quality, so why don't we go over some of the many... many... MANY to come out?
THE GOOD
Jazz Jackrabbit
In the mid-90's, the two kings of shareware were Apogee and Epic MegaGames. While Apogee's games were always fine work, Epic's games just had a little more visual flair to them, especially since they tended to use the 256 color VGA pallete much more than Apogee. And while the PC world has a great Mario-style game with Commander Keen, it wasn't until Epic came along that it got its Sonic. (At least until actual Sonic games started hitting the PC, but still.) Sure, it's not QUITE as revolutionary as Sonic, since there's no real physics or intertia involved, but the fact you're free to shoot ahead of yourself gives you a lot more freedom to just run like the wind.
Unlike other games of the time, like Zool, Jazz Jackrabbit understands that going around looking for coins and such isn't what Sonic was about. In Jazz Jackrabbit, you're perfectly free to spend as much time looking for collectibles as you want, or blast your way straight to the exit. Jazz might not be able to jump into enemies like Sonic, but he does get a big gun, which can use multiple ammo types. That's not to mention the fantastic MOD soundtrack, all the different level types, each with their own enemies and music, the 3D bonus stages, or the animated cutscenes. Play it.
Gex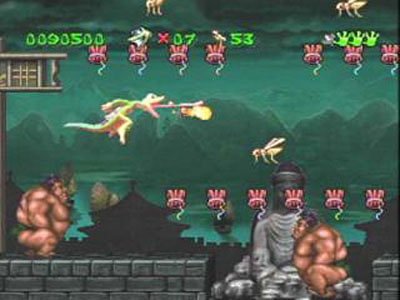 For the record, I'm referring to the original game, not the 3D collectathons that came out afterwards. They weren't AWFUL, per say, but... well, they weren't nearly as good. Released during the dying days of the 3DO, Gex was pretty much the closest thing it ever had to a mascot. Truth be told, it didn't really make gigantic use of the hardware, but it was pretty well put together.
The main gimmick of Gex is that you can stick to walls and ceilings, which opens up a lot of ways you can go. The level design means you get to do this often, especially to find secret areas. The other main feature is that Gex talks. A lot. Hope you like 80's and 90's pop culture references!
The "MEH"
Zool
I'm going to be honest, I've never really gotten the appeal of Zool. For people who didn't have a Genesis/MD or a SNES, I'm sure they were great games. But when they started porting this game to everything under the sun, it just showed that it just really couldn't match up to a lot of console games.
This game makes me realize just how many British-made platformers of this type seem to involve making you collect a lot of things before it'll let you leave. Superfrog, Kid Chaos, and this, as well.To be honest, this strikes me as a pretty poor design decision for a game that's supposedly focused on speed. I mean, you're given all this speed to do what? Slowly scour a level to look for collectibles? Seems like filler, really. That, and Zool just seems too slippery to really avoid enemies when you're moving at full speed. That spin sword move thing helps, but it has to be specifically activated, so unless you're using it all the time, you have to take things slow and carefully.
James Pond
The history of the James Pond series has always been a little weird. You had the first game that, for the most part, has been entirely forgotten. Then you have Robocod, which gets 11 ports. 11 ports. I counted. And I'm not entirely sure why, to be honest. It's not a terrible game, but it's kind of ugly to look at, and it doesn't really do anything particularly remarkable. So when the third game comes out, and proves itself to be a much faster, more involved, and a generally much deeper game, it gets... three ports. No justice, I tell you. If it weren't for Robocod, I'd move into the 'Good' section, but... as it is...
THE UGLY
Bubsy
shut up shut up
SHUT UP
...So, yeah. Mascot platformers. Which ones did you enjoy, or not enjoy, and why?