Comparison time!
Zynaps
Recently I decided to have a blast with this horizontal shooter from 1987... with mixed results. Read on, Macduff.
c64
Judging by the reflections on those bubbles, this entire level is housed in a giant room.
Initially impressive, with silky movement, stylish cartoonish graphics, and cool echoey SFX, but you'll soon be wondering who the hell thought it was a good idea to send you back to the very start of the current level when you die. Got killed while battling the end of level boss? Whooooops! Back to the start of the level for you, sucka! Hardcore players might get a thrill out of the heightened fear of dying this introduces, but most mere mortals will find the frustration of dying outweighs the satisfaction of not dying. (How philosophical!)
To make matters worse, later levels (mainly level 3) suffer from bursts of sudden slowdown. Flaws like this are all the more annoying because they seem so unnecessary. I mean, the bulk of the slowdown occurs midway through level 3 when bunches of blobby enemies bound onto the screen, firing bullets aplenty, with most of them leaving behind powerups when shot. It's as if the programmer just decided to throw more sprites onto the screen than his mulitplexor could handle for no good reason. And as for the complete lack of checkpoints during each level -- well that's just a poor decision. All of this is a real shame, as in the good bits the game really shines, with fast, compelling action, and levels that vary nicely in regards to kinds of challenges you face. It's just too bad that the flaws drag it down and suck the enjoyment from the experience.

Sir! The possibility of successfully navigating an asteroid field...
Spectrum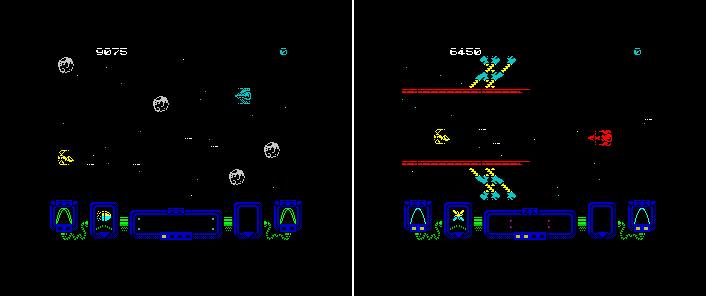 Never tell me the odds! ROWR!
What we have here is a very competent shooter. The graphics aren't as immediately appealing as the c64 version, with no animation for any of the objects except for the explosions, and laughably small end of level bosses that are more like junior assistants who have been thrust awkwardly into a position of responsibility (though the level 3 boss is a notable exception), yet even so, they're neat and colourful, and what colour clash there is isn't too intrusive. The scrolling and object movement are nice and smooth, and although it might slow down a little at times, it's generally consistent, with none of the sudden bursts of slowdown found in the c64 version. As for sound, the sfx are inoffensive and fit well with the action, which is good enough in my book. Crucially, this version has a decent number of checkpoints spread throughout each level, making it a more enjoyable experience than the c64 version (though admittedly a more sedate one), while still presenting a decent challenge.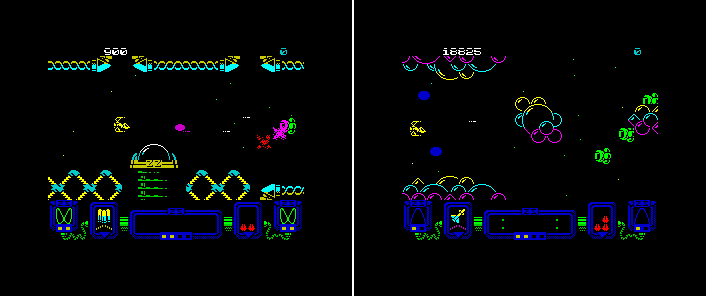 Flying low over ZZ Top's secret headquarters.
Amstrad

I wish my homing missile (white blob) would do more homing and less aimless wandering.
While playing the c64 version, I thought it was destined to come last in this comparison. Little did I know that the Amstrad version had a few nasty surprises up its sleeve. It's not just that the scrolling and movement isn't very smooth -- I was prepared for that, and although I'd like it to be smoother, I could learn to live with it. No, the first major problem you'll encounter is the sluggish control of the ship. Like the c64 version, the ship has inertia (a bad idea in general), but the lower framerate makes it especially unresponsive when trying to move forwards or backwards (strangely, moving up and down is OK). Even after collecting a few speedups, you'll feel like you can't dodge backwards as swiftly as you'd like.
But that's just the beginning. The next problem is more damning: dodgy collision detection. I mean,
really
dodgy. The bottom of your wing can be five pixels away from the nearest scenery, and still you'll spontaneously combust. FIVE pixels, people! I counted them! I was so annoyed I even made an animated GIF! (See below.) On later levels you're supposed to plot a course through tight gaps in rounded, bubbly background. Navigating through these sections ends up being like trying to walk through someone else's lounge room in pitch darkness, except with more explosions and even more swearing. On top of all that, the first couple of levels seem to have no checkpoints. At least the first one doesn't. It's hard to tell with the second as it's all asteroids in empty space. Later levels seems to have one midway checkpoint, which is really too little too late.
Honestly, the more I played this game, the more I disliked it, and the fact that the later levels start to get repetitive doesn't help at all. It's a pity, as the graphics are colourful (although again devoid of animation, save for the explosions), and while the sound is a bit ugly, it does its job well enough. But I'm afraid there's just no getting past the cruddy handling and woeful collision detection. You'd have to be an extremely patient and forgiving person to overlook these faults. Or perhaps just a very determined one. Or maybe crazy.
Whiskey Tango Foxtrot!
I can't shoot those yellow guys from here, but I'll die if I try to slip past them. Awesome.
Verdict:
The spectrum version wins this one, not so much by doing anything special, but by avoiding any serious blunders. It might not offer the white-knuckled thrills that the c64 version provides at times, but nor does it suffer the same hair-pulling flaws. Next comes the c64 version, being a good game pretty much sunk by poor design decisions. Finally, we have the Amstrad version. If the collision detection wasn't so borked, and if the handling was improved, and if it had more generous checkpoints, this one would have fared better. How much better? I'm not sure, but I can tell you that's a lot of ifs.
Emulators used: Spin0.61, WinAPE 2.0 Alpha12, Vice 1.21