I planned to try a big comparison of a particular game over several systems, but the game in question is a shooter of sorts and I realised I've only done shooters so far, so for the sake of variety I thought I'd take a look at a different style of game -- a game in which you zap things with a laser to make them explode... oh, wait... can I start again?
DEFLEKTOR
The K in the name really does it for me. It's the kind of name that demands to be in all caps, maybe even preceded by the words:
'Your puny weapons are no match for me, for I am...'
So, developed by one Costa Panayi, DEFLEKTOR is a puzzle game that requires you to adjust the angle of various mirrors in order to DEFLEKT a laser beam about the playfield with the aim of popping all the balls on the screen, at which point you must then divert the laser out the specified exit point. Reversing the beam back upon itself brings the danger of overheating the laser generator, as do the mines scattered around the screen, and on later levels wandering 'gremlins' roam the playfield, occassionally messing with your mirrors with the sole intent of making rude words erupt from your mouth. The game has been remade under various names over the last twenty years, but let's take a look at the 8-bit versions:
Spectrum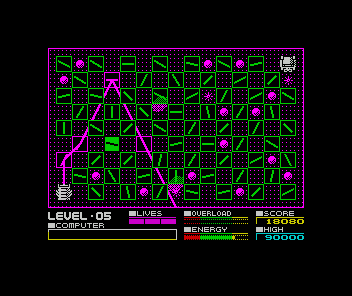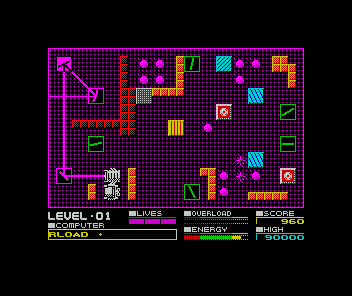 More mirrors here than on Hugh Hefner's bedroom ceiling.
If I'm not mistaken, the speccy version is the original, and it sets a decent standard for the others to follow. It's quite colourful (though with perhaps a tad too much purple), and the neatly laid out grid-like playfield means there's very little colour clash. Sound-wise, the game features a scratchy title tune that would make all but the most loyal of speccy fans wince, while in-game SFX are minimalist but appropriate buzzy, electrical effects that do a good job of providing useful audio cues. So, not a bad game at all, but still, like an old aged pensioner watching the evening news, I'm not without complaint. First off, moving the player cursor can be sluggish at times, particularly when the laser's path gets complicated (as this causes the game to slow down). This can be a problem when you're racing to adjust a mirror to prevent an overheat. Another niggle is that when you pop a ball, the laser won't continue through that particular grid square until the explosion has completely disappeared, which means if you're busting a whole bunch of balls all in a row (quiet you in the back!), you have to sit and wait while each one pops in turn. However my main gripe is that there is no password system to resume where you left off, and nor is there the option to select a starting level, so if you're unlucky enough to bomb out (or simply had to quit playing) it can be a real pain to slog through all the screens you've already cleared.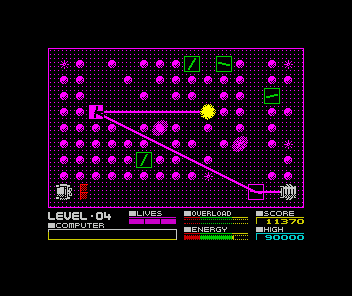 Q: Why you always gotta bust my balls? A: Because I am DEFLEKTOR, buster of balls.
Amstrad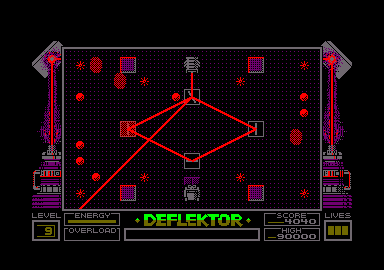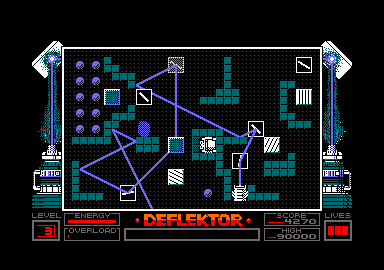 I keep waiting for Ethan Hunt to drop down from the ceiling on this level.
Very similar to the speccy version, but less colourful. According to the credits, Costa programmed this one too, and I expect most of it was a matter of just porting the code over as it has much the same quirks, including the way the laser can't pass through an explosion. Apart from that, the cursor feels like it might be a tiny bit more responsive, but it's still sluggish enough to be a problem on busy levels. The menu screen has a version of the DEFLEKTOR tune that, in WinAPE, is punctuated by brief bursts of high-frequency noise almost beyond the range of human hearing,which is probably great for annoying your neighbour's dog. In Arnold, the noise turned into Geiger counter-ish popping, while in CPC95 the sound was clean, so I think there might be some digitised percussion or something there that's causing sound emulation issues. SFX are suitably buzzy noises, similar to those found in the speccy version. And of course, like the speccy version, there is no password system. Drat.
Your Etch A Sketch... on drugs.
c64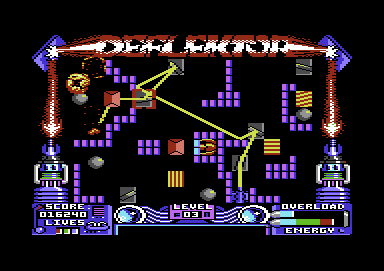 That red box in the top left makes your laser jump around randomly.
Apparently one of these was incorporated into the DVD drive of every second early model PS2
This version is quite colourful but has a lower horizontal resolution due to the use of the c64's multicolour mode. Although it looks OK, I think a game like this really benefits from sharper hi-res lines so it's a shame they didn't go with the c64's hi-res mode. A bigger problem is the speed. On all versions, the game slows down significantly as the laser's path gets more complex, and the c64 version suffers the most. The movement of the cursor block stays fairly responsive throughout, but the process of adjusting the mirrors can get very sluggish, and this problem is exacerbated by the fact that the overheat meter can still fill up at its usual fast rate, which means there are times when it will swiftly overheat even as you're desperately trying to swing the laser around to a safe spot. As for sound, we have another version of the strident DEFLEKTOR theme that I doubt anyone will choose to listen to for long. As with the speccy and amstrad versions, the SFX are basic but effective. And again, no password or level select. Rats.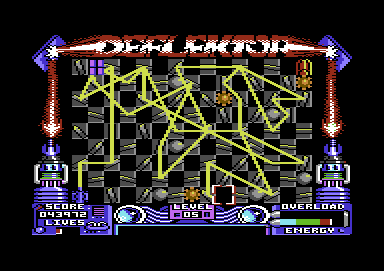 Fig. 1a) How the Internet works.
Atari 8-bit
If you stare at this screenshot long enough you can see a naked woman playing a harp.
While the above versions came out in 1987, this one was made in 1989 (though apparently it didn't actually get a release*). I guess in those two years humankind made some pretty significant advances in terms of modern thought, because this version actually has ... 'A password system?' I hear you ask. Well no, but it does give you the option of starting on level 1, 5, 10, or 15, which goes a long way towards minimising the amount of slogging through previously cleared screens you'll have to do. As you can see, it looks similar to the c64 version, but with much less colour. Still, even if it doesn't look too hot, this version slows down the least and is generally the most responsive throughout, which gives it an edge over the others in regards to playability. Sound-wise, we get another noisy version of the unappealing DEFLEKTOR tune, and more appropriately minimalist SFX.
EDIT: I forgot to mention that the Atari version has a sampled voice that says "DEFLEKTOR!" at the start in exactly the way you'd imagine it should be said, which was kind of cool.
*Thanks Atari Frog for this info.
I'm totally running out of things to say about these screenshots. So... how have you been anyway?
Verdict:
Though it may make my inner fanboy weep bitter tears of bitter-tasting bitterness, I have to give the gold to the Atari 8-bit version, which is a real ugly duckling in that it looks the worst but is helped immensely by the presence of a level selector of sorts and by having the edge in terms of speed and responsiveness. As for the rest, I'd rank the Speccy and Amstrad versions about even, though extra colour in the Speccy version makes it more visually appealing. Last we have the c64 version, which is mainly held back by the sluggishness of the mirrors on complicated levels.
Emulators used: Spin0.61, WinAPE 2.0 Alpha12 and CPCE 1.4 and Arnold (crikey!), Vice 1.21, A800 WinPlus 3.1